PARENTS- TEACHER MEETINGS

The involvement of parents and families is one of the most important ways to improve schools and education systems. It makes an enormous impact on students attitude, attendance and academic achievement. Parent-teacher meetings (PTM) help parents and teachers join forces in an effort to provide a better education for the-child. To get the most from them, parents and teachers need to develop a positive attitude towards these meetings. Teachers and parents work together most effectively when both exhibit warmth, sensitivity, and a feeling of competence during the meetings. Here are some guidelines.
For parents
Make it a point to attend PTMs with your child and get to know his/her teacher(s).
Write down specific questions and concerns before the meeting for effective Tow-way communication.
Acknowledge the efforts of both the teacher and your child and listen carefully to suggestions made.
Gather as much information about your child's strengths and weaknesses at school.
As a follow up, collaborate with the teacher in addressing your child's weak areas.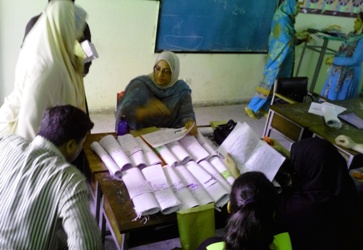 For teachers
Provide support to parents including flexible timings and if absolutely necessary reschedule the meeting.
To ensure privacy and provide individual attention to all parents, schedule separate time lots for parents.
Keep conversation child friendly, avoid complaining. Remember that the PTM is centered towards the child's academic and social development.
Mention the strengths of the student and any problematic areas as concerns rather than problems. If the situation gets heated, don't get defensive - schedule a detailed meeting later.